Login for the first time
You can now log in to this webshop where your account is set up and activated, but the first time you will have to 'reset' your password. After clicking on "reset password" you fill in the e-mail address used when we set up your account. You will receive an e-mail with further instructions to reset/create your own password. Remember to change the language of the webshop to your preferred language.
PS: You can use the same procedure to reset your password once you have forgotten yours.
Delivery time
On this webshop, you can find almost all photo/video products and most products show the current delivery time. These delivery times are based on our own data as well as that of our suppliers while intelligent algorithms calculate a reliable delivery time for each product every 5 minutes, taking cut-off-times and weekends into account. What do these number of days mean? Well, 1 day means, when ordered right away this item will be on your doorstep or on that of your customers the very next day. When it says 2 days that means you can expect this item to be delivered the day after tomorrow when ordered right away.
In this example, we know the delivery time of 41 pieces. When you would order 50 pieces, you will receive the first 12 tomorrow, the next 29 two days later and the delivery time of the last 9 pieces are unknown at this point.

Data that is taken into account for our algorithms:
- Quantity ShelfStock (the quantity of stock we have in our warehouse on the shelf)
- Quantity Inbound (quantity just received in our warehouse, but not processed yet)
- Quantity InTransit (quantity despatched by the supplier, the day before arrival)
- Quantity SupplierStock (quantity of stock our suppliers have in their warehouse on their shelf)
- Quantity SalesOrders and PlanOrders from customers
- Manually AllocatedStock (when items are scares, usually at introductions, we allocate stock manually)
- Our own CutOffTimes and the CutOffTimes of our suppliers
- The Weekends (the number of days represents calendar days, not workdays)
- Expected ProcessTime (the amount of time we expect we need to process the inbound of regarding delivery)

Pricing
On the product page, you can find 4 kinds of prices.
1. The Invoice price will be the price you will find on the invoice*.
2. Some products might have a Rebate, when on the invoice date a rebate is shown on our webshop you are eligible to this amount and you will receive it the first day of the next month via a credit note.
3. In some cases you will see a calculation of what the Net price will be, taking Rebates and Bonuses into account. When you see a Net price, you can hover your mouse over it and see an explanation of the calculation.
4. This is the RSP, recommended sales price including VAT.
* the price on the invoice will be equal to the current Invoice price and can differ from the price at the moment of placing the order.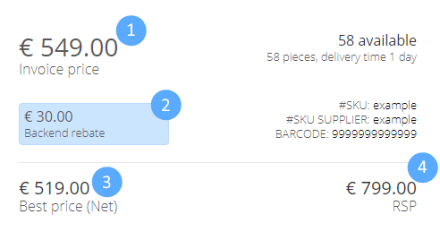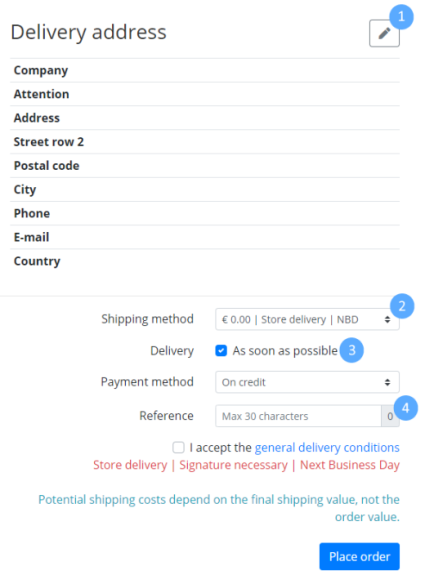 Ordering
Placing an order can be done in two ways. One way is via XML [click here for instructions] and the other way is via this webshop. The checkout-procedure of this webshop has only two steps to keep it convenient. In the first step you simply see an overview of your Shopping cart, here you can delete products from your shopping cart or adjust the quantity. When you click "Continue" you'll go to the Checkout where you can adjust the following few things.
1. If you see this icon of a pencil, you can adjust the Delivery address. This way your order becomes a dropshipment. What changes when your order becomes a dropshipment? First of all, this can only be used for B2C orders (delivery to a customers address), for dropshipments you always have to pay the shipment costs of the chosen shipping method and partial delivery is not possible (meaning we start shipping when the whole order is complete). It is important to fill in the address (and country) correctly before proceeding.
2. Depending on whether your order is a regular Stock Replenishment order or a Dropshipment order and in the last case what country you choose, you can choose between different shipping methods*.
3. When unchecking this box, a calendar appears, which you can use to choose a requested delivery date in the near future.
4. Please always use a reference, preferably the one that matches your own ERP system.
* for Stock Replenishment orders (non-dropshipment orders) we do not have a minimum order quantity. You can place an order of any value. When we are ready to ship we will check how much value we have in stock ready to ship. If this is not enough to ship carriage paid we will notify you and give you some options. We will create one shipment for all open (back)orders (combine orders).
Settings
When you hover your mouse over your username at the top of the screen some options appear. When you click on "Settings" you will go to a page where you can personalize a few things.
1. You can uncheck this box, making all the purchase prices invisible on the webshop. So that you and your customer can browse through the webshop.
2. You can change the currency being used in the webshop.
Extra feature: At the bottom of this page, you can download a complete price list of all products that you are allowed to purchase. Including delivery times and even images.
When you see that the Delivery address or Invoice address is incorrect let us know by sending an e-mail to info@europafoto.nl.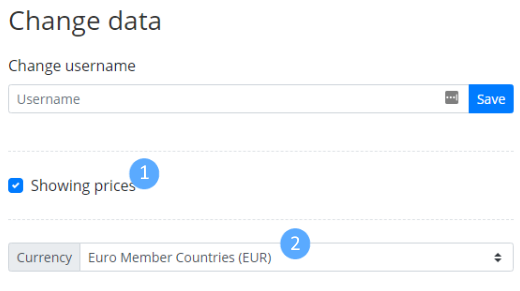 Open orders
When hovering over your username at the top of the screen you can click on "Open orders". Depending on the available data at that given time you might see up to three buttons [Open orders], [Shipped] and [Pending].
By default, you will land on the [Open orders] page where you can see all your open orders, here you will see in the column "Expected shipping date" in most cases the expected date that will most likely be able to ship this order line.
When we have already picked your orders that day, you will see the button [Shipped]. Clicking on the butting will bring you to a page where you can see all order lines that we have already shipped that day.
The button [Pending] will only appear between 1pm10 and 2pm30 (13:10 - 14:30) and only when the total value of products we have ready to ship to you won't exceed the minimum amount to ship carriage paid. In this case, you can choose to pay for the shipping cost and we will ship right away or you just ignore the message and we won't ship that day.

Order cancellation request
When you want to cancel an order line or change the quantity of an order line, you can submit a request via the webshop. On the Open Order page, you can hover your mouse over the quantity and submit your request. Most requests will be processed automatically by our algorithm while some will be approved or denied by one of our employees. Some requests will be processed rather quickly, some might take a bit longer. We will make sure all requests are dealt with within 24 hours. The feedback will be shown on the Open Order page.
For all other kinds of questions regarding your open orders, you can email sales@europafoto.nl.
Invoices
Hovering over your username at the top of the screen will give you the possibility to click on "Invoices ". Here you can see all invoices of the current year and the previous year. You see which ones are paid and which ones are not paid yet and when they are due. You can also pay the invoices here using iDeal or SEPA bank transfer. The search bar on this page can be used to look for invoices by looking for an item code, description, or reference within the invoice that you are looking for.
Selective distribution
Many items have so-called "selective distribution labels". When you cannot see the prices and the stock of a certain product, you are probably disabled for one of these labels. Below you can see when a label is either valid or invalid for you. Please send an e-mail to sales@europafoto.nl when you want to be enabled for a label (and add a print screen). We will consult with our suppliers and reply to your request.